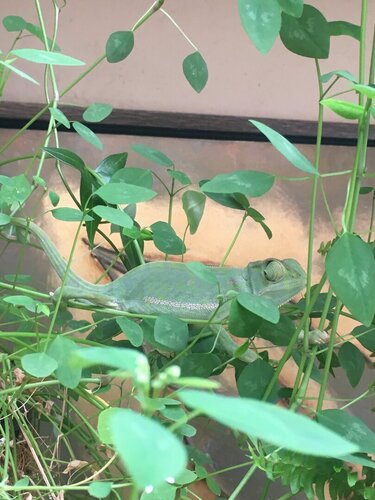 My son rescued this chameleon a few weeks ago. I keep it in what I called my Sanctuary (now Wally's room - as in Where's Wally) The room is around 5m x 3m. Do you think this will be ok long term? It's very humid and temperatures in the room range between 19 degrees at night to 38 degrees on very hot days. It's summer now, so in winter I will have to get a heating pad
Could you please confirm that it is a Flap Necked? Also, how do you tell the sex?
It seems pretty happy and it comes out when I bring it food - mostly spiders, flies and other insects wild caught. I shake whatever I catch in a bottle with vitamin powder on before feeding it.
The vertical plants have irrigation and sprayers, and I spray all the leaves with filtered water twice a day
Should I do anything more?