Hello guys!

Antecedent:
I moved my chameleon to his final enclosure. He is 5 months old now. In his smaller enclosure ( i add image both of the enclosures) he ate everyday from my hand without thinking. I fed him so easily. And then the move happened about 3 weeks now. You guys know when a chameleon moved he get stressed because the new environment but first 3-4 days he ate normally from my hand the same attitude. Meanwhile he everyday went down his enclosure and tried to escape. I posted a thread about it. They said because the lack of cover.
Now:
I put more cover but he still doing it. On this week the things are very bad. He don't wanna eat from my hand only one or two cockroach but i have to hold the bug in my hand for him like 15-20 seconds and i noticed he scared of me for some reason. When i give him the food he trying to run away fast and trying to hide by laying on the branch. And also when i opening the cage or when i enter the room i see he staring me and scared of me
. But i don't understand this scare thing because sometimes when he trying to escape he climb my hand and walk on me.. So i'm very confused because he scared of me but the same time likes me. Returning to the "trying to escape from the enclosure". I noticed that when i "scare" him (ofc not on purpose) he run down and doing the screen walking at the bottom of the enclosure. So i think this two thing connected. But for some reason he doesn't use his plants to hide.
Also:
Sometimes when he trying to escape the enclosure and he climb my hand he want to go down to the ground. i put him down and he run in the same wall every times and trying to climb it.
Please help me what to do. The current problem in tl;dr. : He scared of me, not eating from my hand anymore (and he don't use the other eating methods. i tried to cup feed him recently) and screen walking.
Your Chameleon - Veiled Chameleon, Male, almost 5 months old. He is with me about 3 month now.
Handling - Sometimes climb my hand when he trying to escape.
Feeding - Crickets, waxworms, dubias, turkestan roaches, black soldier fly larvaes, silkworms. I give him 14-16 small insects during twice feed time. Gutloaded with carrots, orange, bok choy.
For some reason with that new problem now he only eats a 1-2 cricket, 1-2 dubias. 0 turkestan ( before he ate like 5 turkestan, he loved it)and few black soldier larvaes.
Supplements - Using repti-cal without d3 powder every feed and twice a month reptivite with d3.
Watering - Spraying plant leaves 2 times a day.
Fecal Description - Healthy. Everyday 1 or 2 poop. White urates normal darker brown poops.
History - Bought from a professional breeder. He is healthy eating normally from my hand every day.

(not anymore)
Cage Info:
Cage Type - Reptibreeze xl 60x60x120cm
Lighting - Arcadia Pro T5 UVB Kit 12.0 24W and a basking lamp.
Temperature - Basking spot 29-31 Celsius degree. In lower his cage he have about 22-26 Celsius degree.
Humidity - 35-50 at daytime. At night around 60-70.
Plants - 2 Ficus and one dracaena.
Placement - On a desk.
Location - Europe, Hungary.
Smaller enclosure: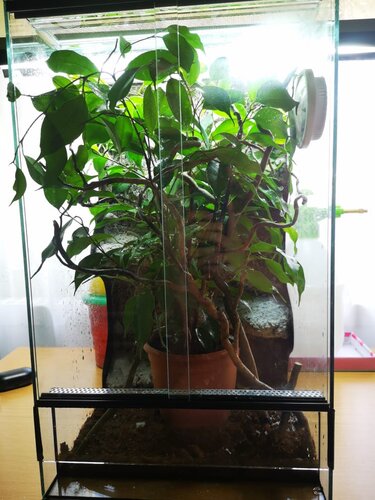 Now: