2.5 weeks ago, the patriarch of my chamily, Donnie, prolapsed. I came home from work to find him distraught and dragging the prolapse along rough branches. I believe he had been that way for at least 24 hrs (I had been working late that week).
I did some frantic calling and searching. My exotic vets couldnt see him as it was late in the day. Researching and many photos led me to believe he had a colon prolapse, not hemipenis… and that would have been very, very serious. His dragging it along had caused a lot of small lacerations, and with him being ~6, I knew his chances of recovery in that case were low, and was prepared to say goodbye (I did, actually).
I finally got threw to get him to an exotic right at closing, said a tearful goodbyes, and left him with the vet. If my suspicions were correct he would be euthanized. I got a call from the vet after closing, and to my relief, the vet said it was an awkward hemipenis prolapse and not colon. He confirmed that if it were anything else, euthanasia would be necessary. They performed an amputation with just local anesthesia (another relief, as general anesthesia was another huge risk)… and just one stitch.
He came home the next day - terrified of people (so unlike him), and with a butt that looked like the Kardashian lip challenge. But my guy was still with me!!
Not out of the woods yet - the risk of infection was still high, especially with all the lacerations from dragging his bum. He was on a 5 day course of antibiotics (I forget which). I moved him to a free range with safer branches and less stress. Twice a day we go outside for 30-60 minutes of natural sun (1-2 hrs total, daily). This also gives him basking opportunities and 2 x 10 minute heavy showers per day. He has always been a heavy drinker, and he loves every minute of his showers.
He has healed nicely, so far. Redness and swelling have greatly reduced. He has a dried piece of something he is trying to work out - I think maybe dead tissue and dried blood. I think he can work it out naturally with his next poop (which has been doing w/o issue since amputation). He still rubs a little to try to work that loose, but I think he is healing well. He is the oldest, but most youthful chameleon in the group. Very outgoing and active. So happy that he is still with me, as he had shown no signs of slowing down before the prolapse. He is used to our trips outside so I cannot pass by without him motioning "can I come?"
I've found lots of potential reasons for a prolapse, but I formed my own conclusion. Donnie has
always
pushed his hemipenis out after a poop, for years. He usually sort of stretches it out and cleans up after a poop, then tucks it back in w/o issue. I suspect that he may have done so this time and maybe scratched it or got debris on it and then did not retract as usual.
Figured this may be useful for someone else down the road. Trigger warning below, as the photos are graphic. The surgery and meds were around $200.
Day of prolapse (after triaging, cleaning, and lubricating)
Day of procedure. Can see hus little stitch. Lots of swelling, redness and some puss.
Subsequent days / healing progress. This is over two weeks: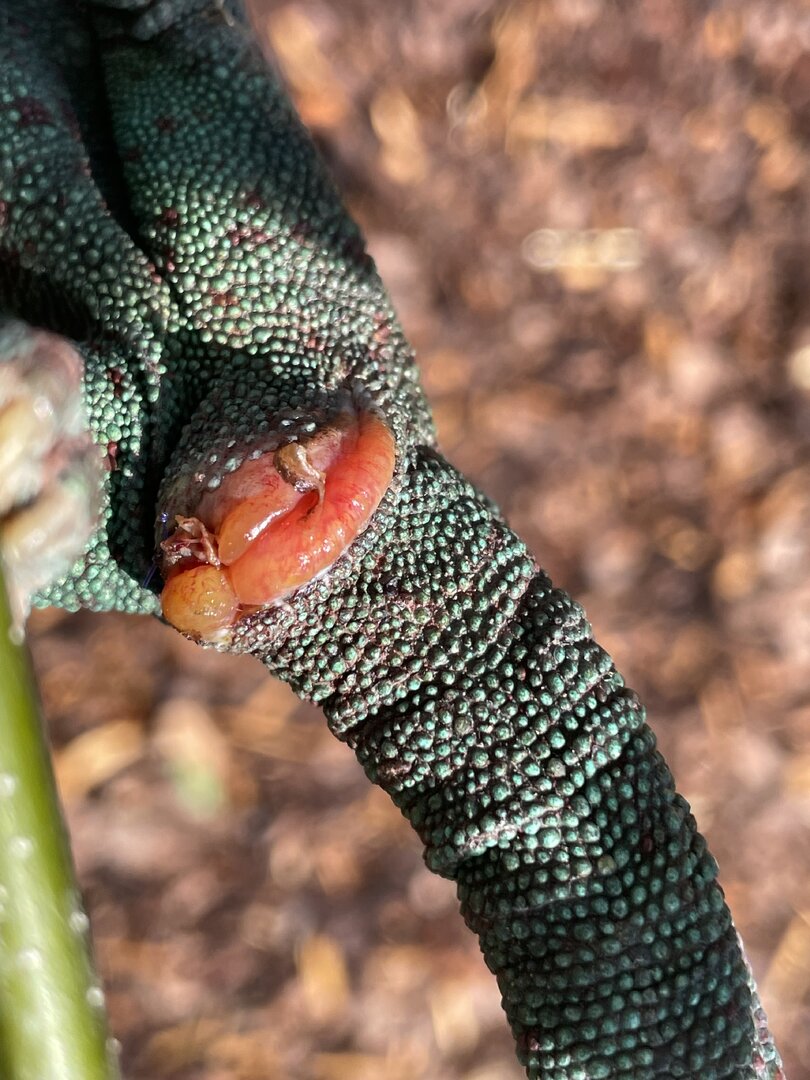 The collateral damage of sitting outside 2 hours per day in peak mosquito hours. A price I'd gladly pay.
Donnie in the garden for his daily spa and PT treatments.