Right off I want to differentiate.
Open Enclosure = cage with no physical walls, but the animal is confined to that area.
Free Range = I let my guy go where he wants, like a puppy. Also = BAD.
Well my open enclosure has not been as good at restraining. He can get to my desk and will come and hang out to get fed. Sound cute, it is, but he has no tongue and can only eat about one a day so it is more a drive of nature and he is simply no longer concerned with me as a threat.
Well I did not properly evaluate the risk. He has no tongue so has to be hand fed in a special way so that he can get the roach far enough back to swallow. So he can only swallow what I give him. All is good.
Well He is a Chameleon and never ceases to amaze.
The straw was down his throat to the bend. I did not realize how deep till I pulled it out . It was in my cup when I left the room. I feed out of a cup with a long pair of tongs.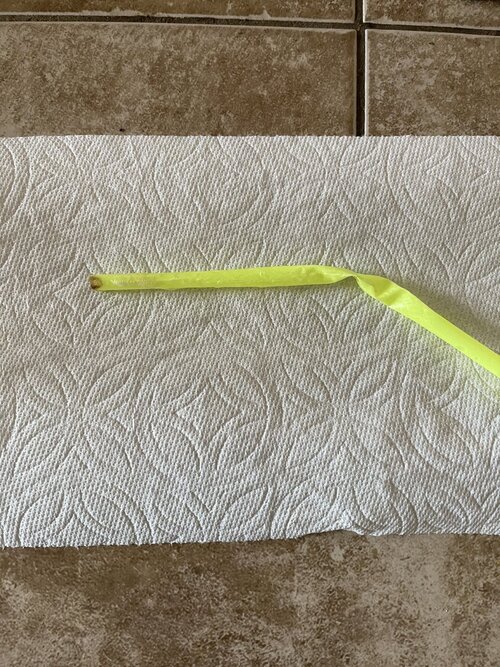 But wait !! I find this this morning. It is a small foam float for fly fishing. PASSED thankfully. He showed no ill signs.
So now looking at my desk and trying not to be over concerned, but at this point nothing is off limits. It was further back on my list, but time for a cage redo.
LESSON!!
Never trust a chameleon. There is apparently no such thing as "He Wont" I will only ever say "Hasn't Yet" .
Of the concerns I did have this was not on the list.