Hi I am very new my cham has not hatched yet. I know very controversial. I have been researching every thing and every avenue including this forum for months before I decided I can do this. I don't really have a problem more like have I set up my enclosure enough. I tend to over think things, I want it done properly to make sure he or she will have the best life. I have gone bio- active so far it's been active for about 3 weeks and everything is going strong. I have mistking set up and the t5 lighting. I am just wondering if you wonderful, knowledgeable people can tell me if I need to change any plant placement, add more or less branches or anything else you can see that might need done.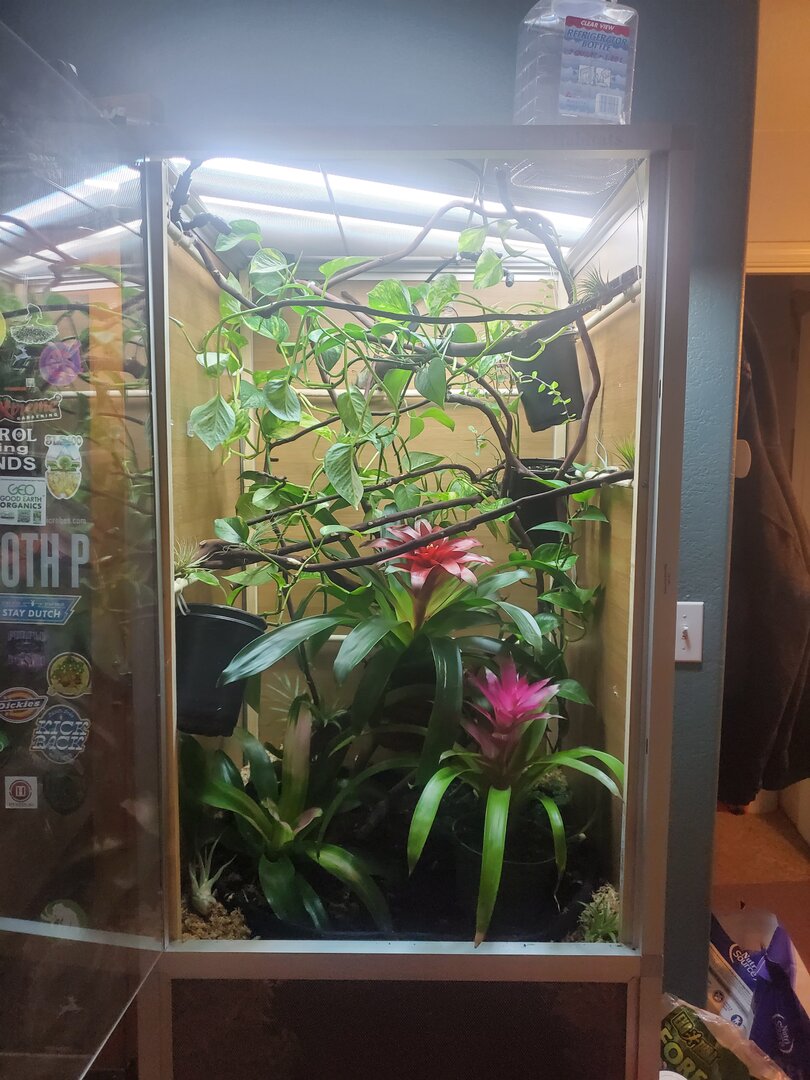 Cage Info:
Cage Type - zen habitats hybrid 2x2x4
Lighting - I have 2 sun blaster 36 in reflectors, right now till my baby is born I am only using the t5 plant lights. I have a separate heat bulb also for when the baby is here. Plugged into a smart plug 12 hour cycle 7:30am - 7:30pm
Temperature - I have not really maintained a temp yet if it's 75 in the house it's 75in the cage. I have about 6 weeks still, to get all the things dialed in.
Humidity - levels are high at night and even higher early morning in the range of 65% and always 99% by 7 am. During the day they are about mid 50's, I think.i check them in the morning before work on my lunch and when I go to bed.
Plants - all plants are live. I have pathos, creaping fig, wondering jew,broomlaids, and air plants, and a baby parlor palm.
Placement - Where is your cage located? In the living room as we don't have many friends so it's just 4 of us on a daily basis and we have a very quiet home for the most part. We are all gone during the day and the 2 dogs stay out side till dinner.
Location - we live in the southern portion of Oregon.