What a productive weekend! Though I have a million things to do around the house, I spent the weekend bossing my husband around, making custom bug cages, a frog viv, and substrate trays for the 2x2x4 enclosures. I'll be updating as we go along on the bin, should it help someone else down the road. When we are all finished, I will have a video of the assembly.
We found some overstock 1/2" PVC sheets, and picked up a few (why a few? I don't know either!). The sheets are 4x8 and are popular with the snake crowd who build their own racks. I think you can most likely find them cheaper than Home Depot and Lowes, who seemed pretty expensive at first glance.
We will be building several substrate trays - 2 of them are for the 2x2x4 cages, and then another for a large DS Atrium, and a franken-cage. I'm not great with fractions, but the dimensions were 23 and a couple lines X 23 and a couple more little lines. John said 23 3/16ths... but your mileage may vary. What we did was just remove the floor pan that comes with the cage and use that as a template for the base. We then used a straight edge and a finishing blade on the the circular saw. The PVC cut easily and cleanly.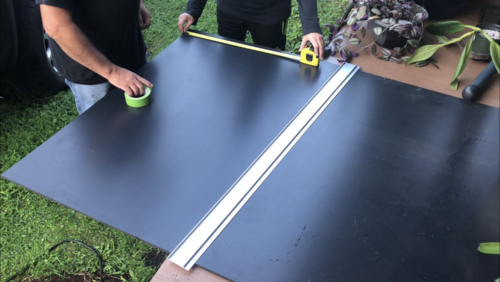 Our first cut was 23 3/16" x 48". That will be cut tomorrow on the table saw to create two 23 3/16" squares.
Then we cut another 23 3/16" x 48" piece, which we will cut into 4 evenly sized rectangles (23 3/16" x 12"). These will be the front and back sides for two trays.
We still have to cut one more piece, which will create the side pieces for the 2 trays. For this cut, you need to subtract appx 1" from the 23 3/16" to account for the width of the pvc. The front and back pieces will overlap the side pieces, which is why it should be shorter. IDK how many lines that means you subtract, so refer to your husband manual for exact measurements.
The PVC makes a mess. I wish we had a garage, as I feel terrible for that crap falling into the grass outside. The dust should ideally be swept up, not washed away.
Next up we will cut our side pieces and begin gluing them. We were told this is PVC, but I'm always a skeptic. I bought PVC 2 part glue (purple primer + glue). The plan will be to glue the pieces, then screw them, then silicone the corners. This will be a substrate / drainage tray, so we need to be sure water only drains where we want it to! If the PVC sheets were thinner, I would not recommend screwing them, but we think we'll be able to do so w/o splitting the material.
Some pics to come as we progress!
Last edited: