Hello, everyone! I did some digging around the website, but I don't think I found exactly what I was looking for.
I have a gravid female Veiled Chameleon that is about a year and a few months old. I took her to the vet to ensure she was gravid (I'd owned one female Veiled prior that had a similar body shape when she was gravid), and lo and behold, she is, in fact, gravid. The doc took some x-rays, which I've included here: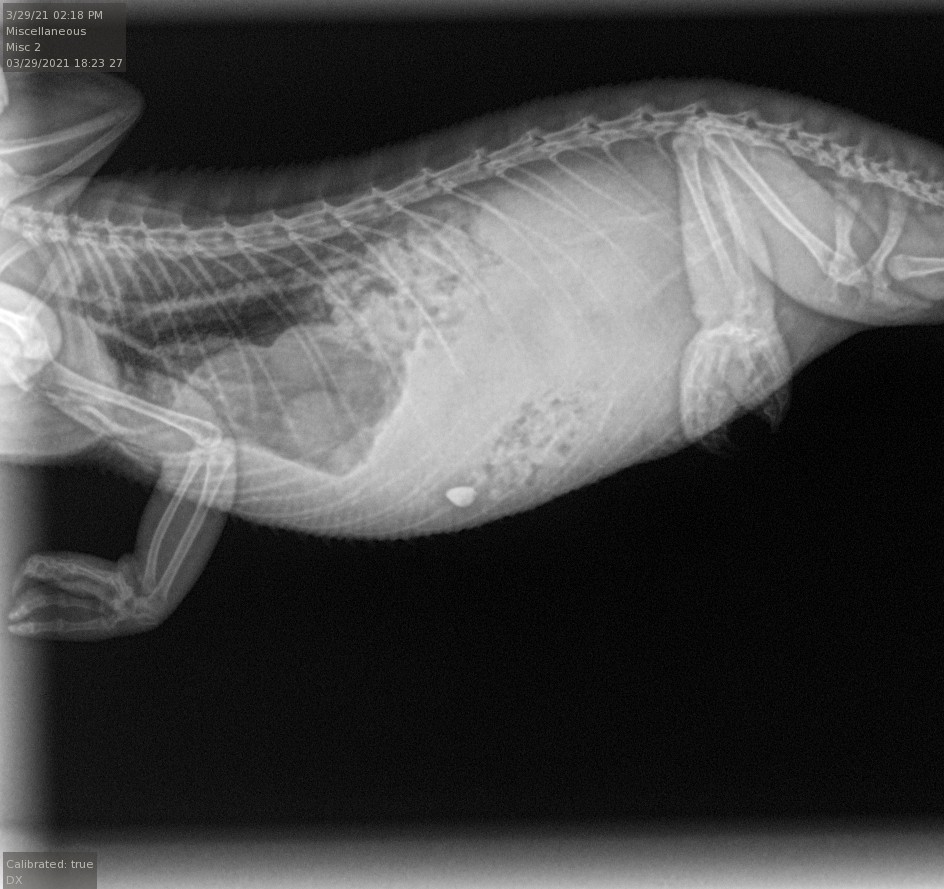 I don't believe she's eggbound just yet as she's still very active, always willing to eat, and never has her eyes closed during the day. However, I'm finding myself getting worried.
Her habitat is the right size, the humidity is correct, the heating gradients and basking spots are accurate, and she has a mister that is timed to go off, so I know she's well-hydrated. But when I put the laying bin in her cage that I'd used for my previous female (cleaned with clean eco-earth), she refused to touch it.
I'm now reading on these forums that play sand is a much better choice, and I'm willing to make that change, but I'm a bit worried. Also, ever since she developed her gravid shape a couple of months ago, she's had this weird bulge around her neck that has been identified as gular edema, and there is also fluid in her abdomen. The vet didn't seem to be sure whether this would go away after the eggs were laid. She advised me to supplement with calcium with D3 every day from now on, but I've read that this is a huge no-no, and I'm now unsure of what to do. Her crickets and silk/horn/superworms get fed a mix of the fruits and veggies listed on the nutrition page, and they're dusted with calcium (no D3) every day, calcium with D3 once every other week, and a small bit of multi-vitamins once a week.
All of this to ask:
Will it be too stressful for her to move the things in her cage around to make room for the new laying bin with play sand?
Should I give her calcium with D3 every day?
Should I be concerned about this gular edema/fluid despite her having no bad symptoms at all?