i am so heartbroken. it was a freak accident and was even designed to protect her from harm, but it wound up being Lemon's demise.
Lemon was a WC
F. lateralis
that i have owned for about 7 months. she came with Solo, a male WC, and my carpet collection was rounded out by beautiful little Gem from Dooley1. she actually did not come in gravid, which is unusual for a WC carpet. after giving her 6 weeks or so to acclimate, she mated with Solo and gave me 11 eggs that are doing nicely thus far.
as female carpets cycle so quickly, their appetites tend to wax and wane rather quickly as they are going though their various phases of breeding. in general, she was always a great eater, running down prey in her cage. but there were times when her appetite was a bit more sketchy, and i worried about leaving any feeders behind that might have bitten her. so i thought that i devised a great strategy by placing a tiny portion of a Fluker's Orange Cube Cricket Diet in the bottom of the cage to try and draw any insects away from her. this was a system that i used in several female panther cages as well for the same reasons. and when i say tiny, i mean tiny. not because i am frugal, but since they dried out within a few days and i was cleaning out the botom of the cages regularly, it just made more sense to replenish with a small fresh piece when needed. even though she did dig some "test holes" in her nesting box, she still always dropped the eggs around the cage. she had dropped some recently; some of which i was able to find quickly enough to save, and some that were too dried out already and aren't going to make it. in the past week or so, she had dropped about 5 eggs. palpation revealed some more eggs to come, but nothing that felt obstructive.
yesterday, she was found dead after being seen alive about 3 hours prior. i truly did not believe her to be eggbound and of course i could never really know her age since she was WC. and since she seemed a little quieter in the past week or two, i told my wife that i thought that she just must have been older and it was her time. but necropsy revealed a different story........
upon removing her ribcage (lateral approach is used for a chameleon necropsy), there was a very large mass seen in her mid-abdomen. it was soft on palpation, but was occupying the area where the small intestines and liver typically should be and was pushing those organs aside. additionally a few fully formed eggs were noted.
removing the mass from its position revealed it to be within the gastrointestinal tract, which was twisted upon itself quite tightly. after loosening some adhesions, i was able to display the entire GI tract.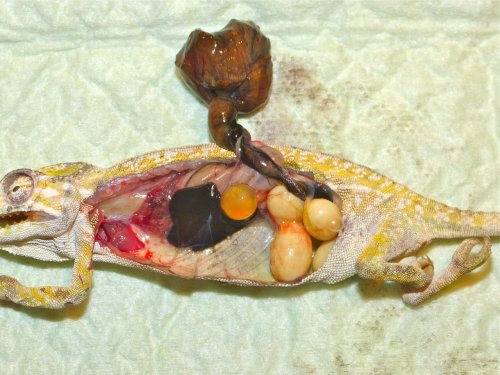 palpation of the mass showed an enormously distended small intestine with a soft yet firm, gelatinous feel to the obstuctive object. and that's when it hit me.......she had apparently eaten that tiny, maybe even somewhat dried piece of Fluker's Orange Cube which then swelled, and swelled, and swelled until it compressed and blocked the blood supply to that portion of the intestines and there was a tiny perforation that was the cause of the tightly adhered, twisted GI tract. anyone who has used any of these water gel compounds know how much they expand, and her body just kept contibuting the fluid that was necessary for it to expand to a fatal size.
below is a photo of the removed gelatin, a typical piece that i would place in the bottom of the cage, and a typical chunk that is in the Fluker's bottle.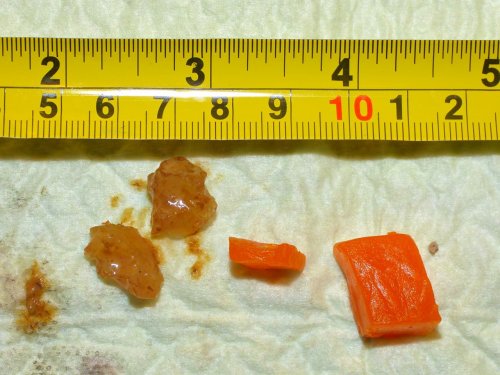 i don't know how long this was in her, probably just a week or two. the orange dye obviously faded away. and she's had these pieces in her cage for months but just apparently decided to try one. who knows, maybe a cricket was eating it and she missed the cricket and grabbed this instead. i'll never know. but i am very surprised that the gel did not break down more quickly in her body, that's for sure. i would have thought that with enough growth it would have liquified more and dissipated enough to fit the contours of the GI tract, but this just exemplifies how incredibly thin the walls of a lizard's intestine are when compared with mammals. there just wasn't any resistance to keep it from growing and growing.
i am so sorry, little Lemon. you were among the first carpets that i ever owned which fulfilled a childhood dream. you were incredibly sweet and beautiful, entertaining and amusing. and for a WC cham to just walk onto my finger without hesitation from day one really showed who you were. i hope that i can keep your eleven four-month old eggs healthy and see your babies. and perhaps, with a little luck, these other 6 taken from your deathbed may be the real miracle babies of the year.