Hi, all!
So I know this is a relatively familiar topic, but I'm wondering if my fellow keepers can SHED some light on the issue…pun totally intended!
I have a 4-month-old Ambanja male who has a a stuck piece of shed on the tip of his tail. His last molt was three days ago, and was completely successful, aside from this small piece at the tip of the tail. I've been misting him regularly, and have placed him in the bathroom with the shower on, in an attempt to break it loose with some higher humidity sessions. In addition, I've soaked the tip of his tail in warm water for several minutes, three times a day.
In short, I'm beginning to worry that the circulation to the tip of his tail is being constricted, and that it may become necrotic and fall off. So far, it does not look discolored, aside from the white appearance of the stuck shed. As always, thanks so much for the help!
-Cala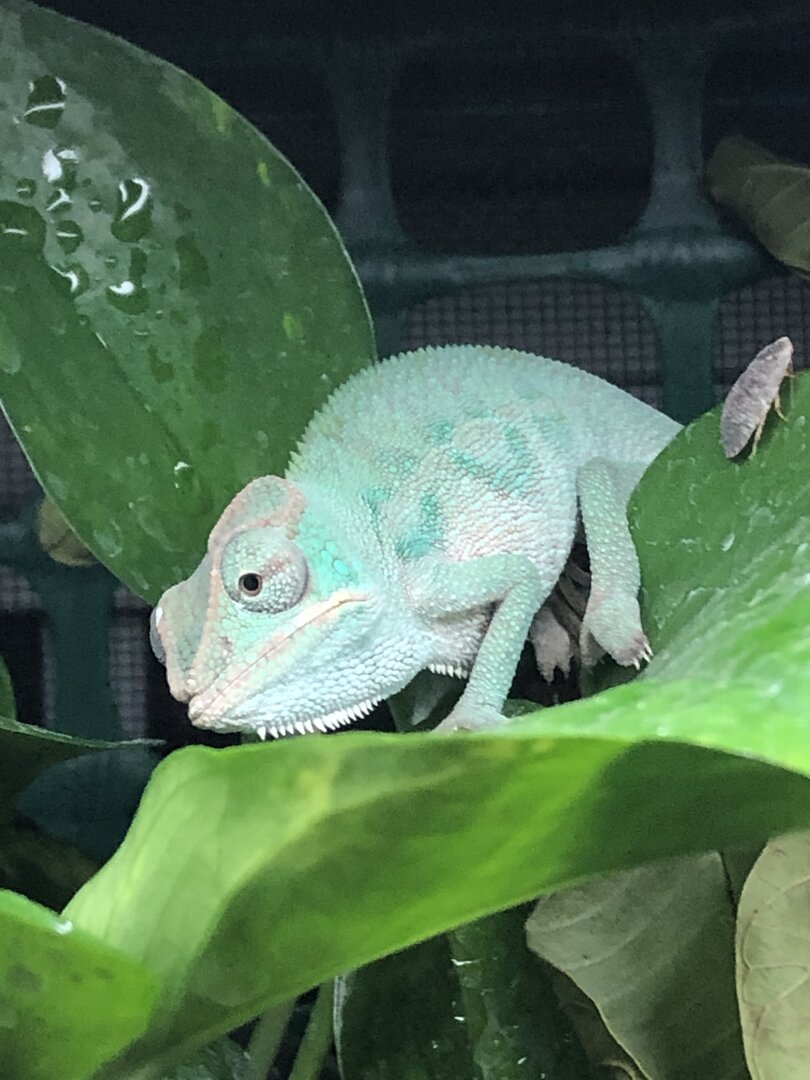 Here are the facts:
Your Chameleon - 4-month-old F. pardalis Ambanja male.
Handling - Never. Only recently, when soaking tail tip.
Feeding - Dubia and crickets, daily.
Supplements - Repashy Calcium Plus
Watering - Hand misting 4 times a day, for 1 minute sessions, until plants are dripping.
Fecal Description - Firm and well-hydrated.
History - Very healthy little guy. Eating and drinking regularly. Arrived healthy and active from breeder. I've had him for about 10 days now.
Cage Info:
Cage Type - Reptibreeze all-screen cage (18x18x36)
Lighting - Reptisun 5.0 UVB 18" T5 linear. Zoomed basking lamp.
Temperature - 75 degree ambient daytime, 65 degree nighttime, 85 degree basking spot.
Humidity - 50% daytime, 70% nighttime.
Plants - Ficus benjamina, Schefflera, Dracaena.
Placement - In front of West-facing window, on 4' shelf.
Location - East Bay Area California
Current Problem - Stuck shed on tip of tail.