Chameleon Info:
Your Chameleon - The species, sex, and age of your chameleon. How long has it been in your care? Senegal Chameleon, 3 months, female. I have had for a little over 1 week.
Handling - How often do you handle your chameleon? I do not handle my chameleon.
Feeding - What are you feeding your cham? What amount? What is the schedule? How are you gut-loading your feeders? I have tried small crickets, fruit flies, small hornworms, and small wax worms. I have had the most luck with crickets and waxworms but she will only eat 2-3 crickets at a time and she has only eaten twice since I had her. Once was Friday, almost a week after I got her, and the other was yesterday but I had to hold it in front of her month and she only ate 2 crickets. I gut load my crickets with different fruits and carrots. She hunted for them the first time she ate which was almost a week after we got her and now she ignores them. I have to hold them now.
Supplements - What brand and type of calcium and vitamin products are you dusting your feeders with and what is the schedule? I use calcium but she has only eaten once with the calcium on a wax worm otherwise she has refused it. I have yet to have any success feeding with anything else
Watering - What kind of watering technique do you use? How often and how long to you mist? Do you see your chameleon drinking? I mist at least 4 times a day for about 2 minutes and she has a dripper. I used to see her drink everyday but now she doesn't unless i drop the water directly in front of her and it's usually only 1 lick.
Fecal Description - Briefly note colors and consistency from recent droppings. Has this chameleon ever been tested for parasites? The feces is normally brown with white urates but since she stopped eating or drinking for so long, the urate has turned almost orange in color. Feces is still the brown it usually was. It is not runny.
History - Any previous information about your cham that might be useful to others when trying to help you. The breeder said she has always been that color but she has always been a pale color whether it be the beige color she usually is with some green or gray when she's basking. I have attached a picture of her.
Cage Info:
Cage Type - Describe your cage (Glass, Screen, Combo?) What are the dimensions? I have the reptibreeze screen cage. Unsure of dimensions.
Lighting - What brand, model, and types of lighting are you using? What is your daily lighting schedule? I have a 60w basking bulb and a linear UV light that is about 9 inches above her basking spot. The lights are on from 8am to 8pm.
Temperature - What temp range have you created (cage floor to basking spot)? Lowest overnight temp? How do you measure these temps? The ambient is about 75, the basking is about 85-90. the lowest it has gotten at night is 68 but it stays around 70. I have a probe for the basking temperature but I also use a temp gun for the basking spot and everything else.
Humidity - What are your humidity levels? How are you creating and maintaining these levels? What do you use to measure humidity? The humidity levels stay around 50 or 60. It will spike up when I mist. I do have a fogger on automatic if the humidity goes too low but it normally stays okay with just misting.
Plants - Are you using live plants? If so, what kind? No live plants yet.
Placement - Where is your cage located? Is it near any fans, air vents, or high traffic areas? At what height is the top of the cage relative to your room floor? The cage is in a corner away from traffic areas and not near any fans or vents. The top of the cage is maybe 5 feet off the ground.
Location - Where are you geographically located? Oklahoma, USA.
Current Problem
- The current problem you are concerned about.
My chameleon will barely eat or drink. She is not lethargic or anything but has only eaten a total of 6 crickets since I've gotten her and 2 waxworms and I've had her for about a week and a half. She was drinking water but around 2 days ago, she just ignored the water. She would stare at it but she has not drunk it. It does drip and she didn't have problems with it before. We had an appointment for a vet but an emergency happened and not we are not able to afford a vet visit for a couple more weeks. I am unsure of what to do to try and fix this problem at home so she'll make it to the vet appointment.

She has always been beige with some green lately but she looks skinnier and slightly dehydrated to me. I have attached a picture of her that I took today when her fogger was on. There is bell pepper on her leaf next to her since I tried to get her to eat something else if she wanted it but she also refused that. She also normally has more plants in there but some are being cleaned.
.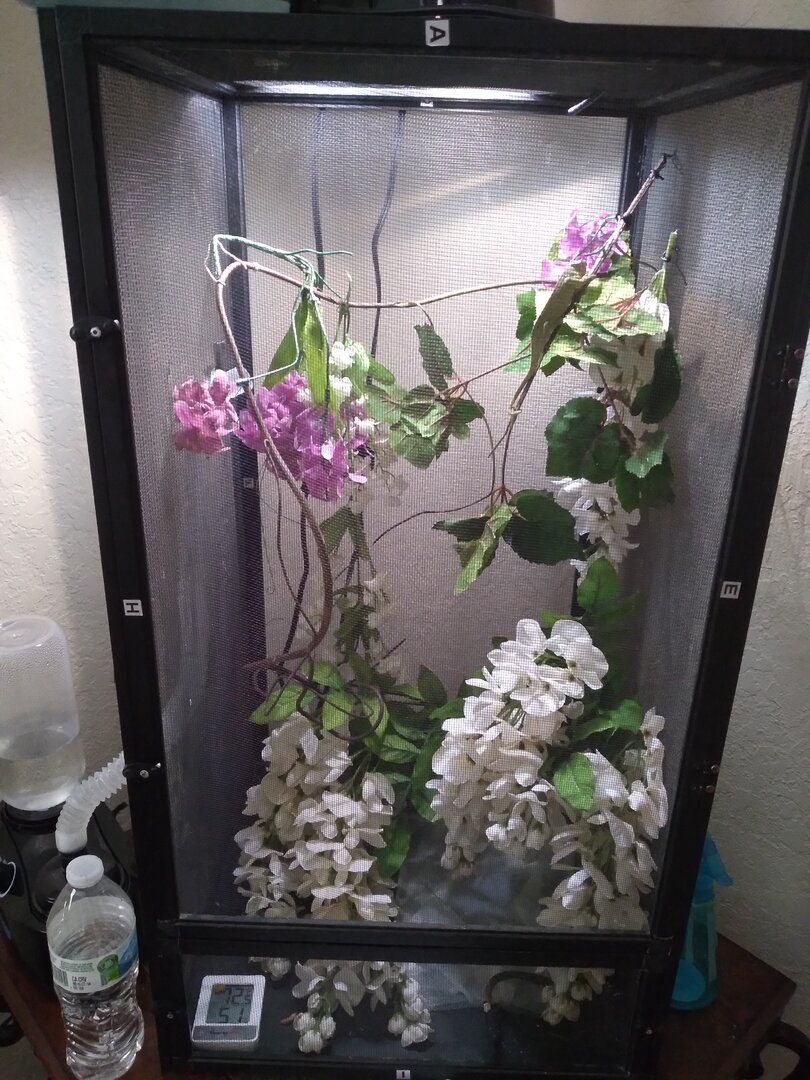 Last edited: