I got her about two weeks ago. They said she is juvenile but may also be pregnant. She has not eaten a thing for me. She still drinks water and moves around the cage all day. I mist her daily in the morning and at night for 5-10 minutes each.Lights are on for 12 hours a day. Then I offer her a few bugs until she starts to climb away from me after every mist. Food is always in the enclosure for now until I know she is eating. We have tried feeder cup, tongs and placing the bugs on the leaf in front of her.
Her enclosure:
-SIZE: 18x18x36"
- TEMP: Day time 75-80F Night 65-70F
-HUMIDITY: don't have hygrometer, but in GA its always above 80% outside.
-HEAT; 40W
-UVB; T10 Linear
-PLANTS; Yucca, artificial vines and leaves.
-FOOD TRIED: crickets, waxworms, dubia roaches and hornworms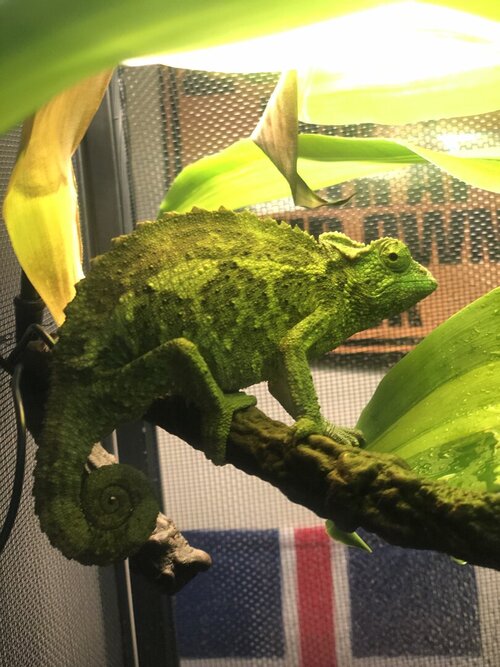 1.She gets this dark pattern when we are too close to the cage or when I try to feed her.
2. This is when she is sleeping and when climbing around.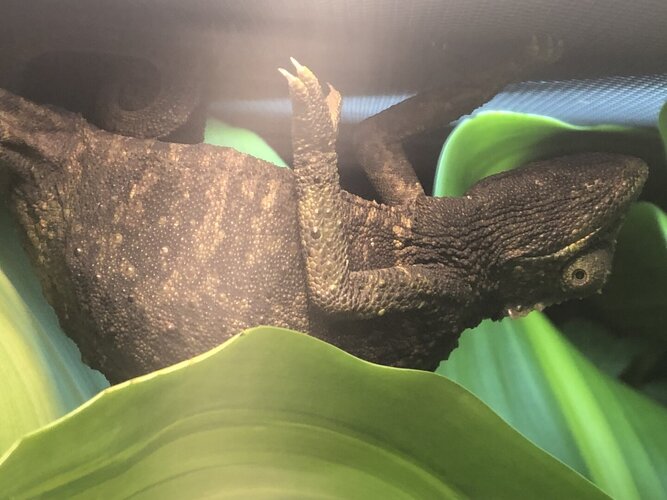 3. This is her color when she is basking. (kinda freaks me out that she gets that dark lol)