After a rather poor year of losing animals (not just chameleons) and many, many vet visits, I'm looking to review my husbandry and seek advice for rescuing wildcaughts in case there's any way I can improve.
To throw a little history out there, I work at a large veterinary hospital with plenty of access to vets who will see chameleons, and because of this, many Florida ferals picked up off the side of the road and brought in, where I subsequently end up with them.
I am filling out the form for my only remaining cham and throwing a brief history of the others who passed below.
Chameleon Info:
Your Chameleon - Male veiled Chameleon, supposedly 9 months. Only weighs ~15g.

Handling - Never, if I can avoid it. He's very aggressive so secondary handling (using a branch) is best.
Feeding - I have a colony of dubias and discoids, superworms, and BSFL. Also regularly purchase silkworms and hornworms, and catch plenty of grasshoppers and crickets on the property. Everything's gutloaded.
Supplements - Arcadia Earthpro+, daily. Reptivite, 1x a month.
Watering - Misters, 45 min total since it is connected to the tortoises' system but the outdoor enclosure allows for night fog and morning dew naturally. Chams haven't been about drinking either. But looking for a better way to potentially get shorter, more frequent mistings without throwing off the tortoises schedule.
Fecal Description - Had coccidia, finally having clean fecals. Stool is well-formed and urates mostly white.
History - Purchased originally at a petstore, spent months with the new owner before being returned for being incapable of walking or gripping. Diagnosed with MBD, possibility of gout, and full of coccidia. Spent the first two months with me in a tank to recover and just recently moved out when he was able to walk and sleep upside down on the screen.
Cage Info:
Cage Type -

Total height is just over 6', shade cloth between barriers so chams wouldn't need to see each other, top also covered to avoid getting too drenched. This current cham ony gets the top left section to himself since he's quite little.
Lighting - Natural sunlight
Temperature - Basking spots can range but around 95 is what I get, ambient goes down to 80. Lots of little hygrometers. Nights vary but typically in the 70s
Humidity - 80-100% whatever FL is at that moment
Plants - Pothos, bamboo, hibiscus, ferns, and a few others I can't remember the names to but are pictured
Placement - in the yard, technically in a tortoise pasture
Location - SWFL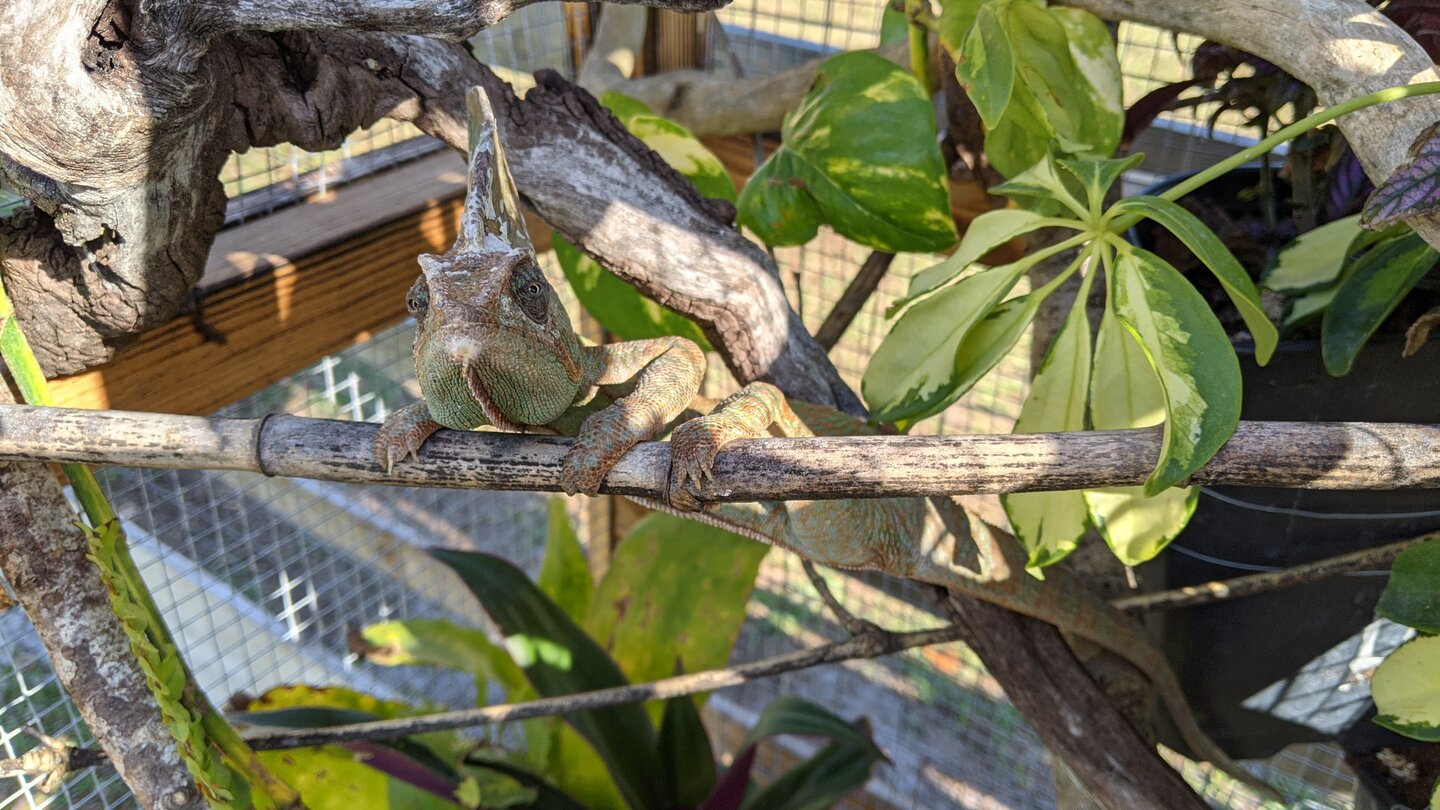 -Mature male veiled 1, feral found originally in a parking lot, emaciated, unable to move, and parasite-ridden. Went from around 100g to about 250g after being declared worm-free, and gained a great deal of confidence once being moved into an appropriate 6x2x6 cage. Found sleeping in irregular spots of the cage two nights before passing, in which he was found asleep and unresponsive, dangling by only his rear legs. He went agonal and proceeded to die hours later, despite supportive care (heat and fluids).
"Hell mouth" mid-sized veiled male. Feral found with a broken, abscessed jaw and previously broken stifle. First round of antibiotics worked but the jaw abscessed again about 1 month later and he was placed back on them for an expected more extended time. Jaw began to heal fantasticly, appetite was insatiable, then with the healing process sloughing off all the dead tissue, that previously broken stifle skin went as well, allowing his femur to become exposed. He was evaluated by multiple vets for surgery, scheduled, and it is suspected that the pain medication maybe have been too hard on his kidneys, killing him the day of.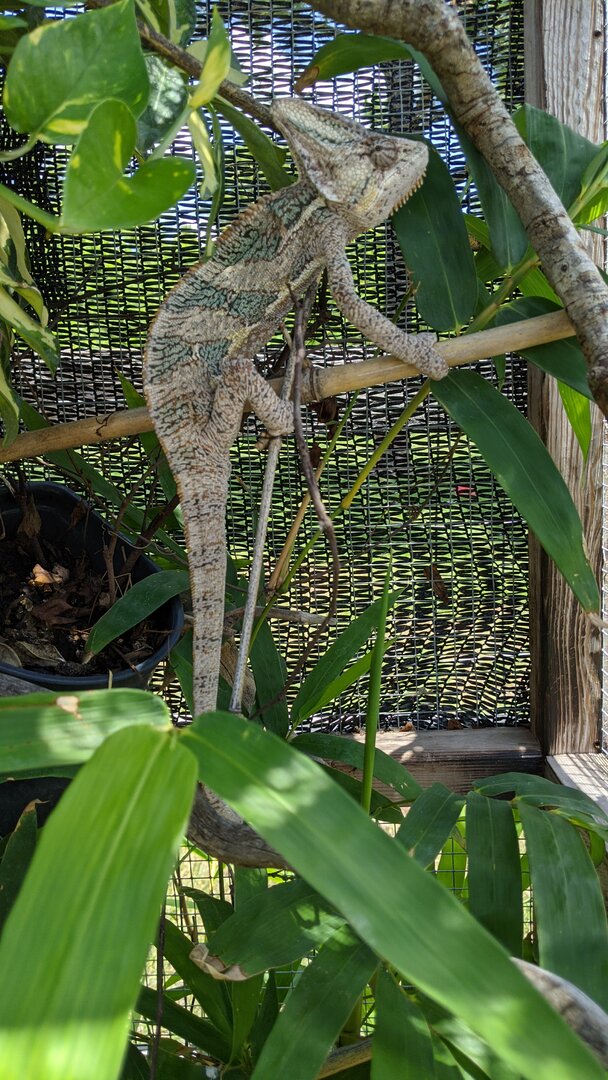 1 y/o male veiled. Surrendered by someone who purchased from a petstore and was historically healthy. Sudden tail paralysis and sperm plug. Hemipenes were unable to be persuaded to go back into the the vent, so it was elected to amputate. Never recovered from the surgery. While in hospital, a fecal was also run, revealing coccidia and giardia, which I am kicking myself for as he was given to me by a trusted person who swore he was healthy so I never checked myself.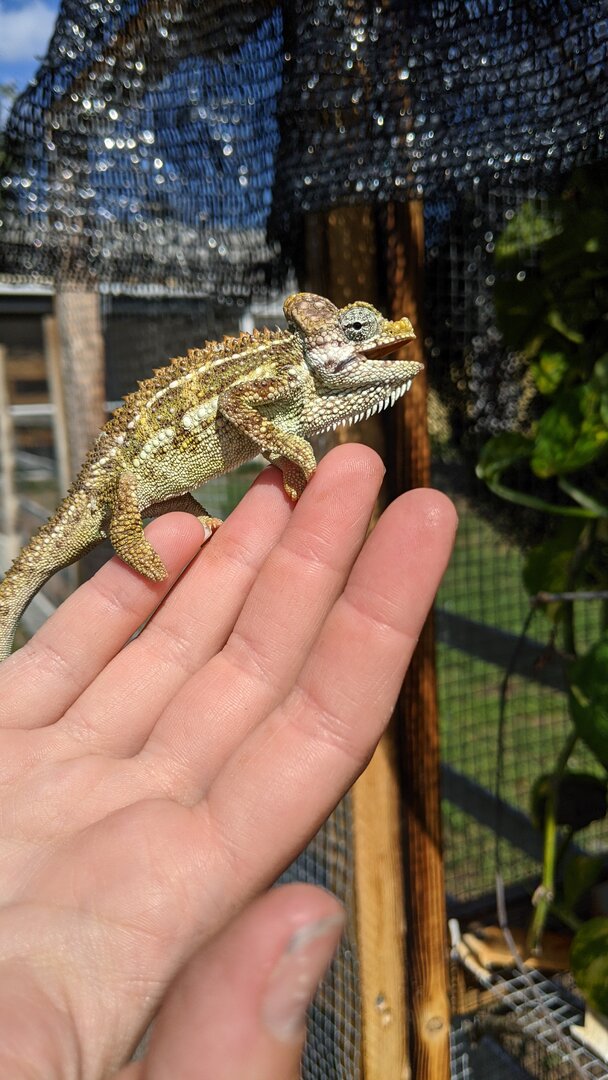 Helmeted chameleon, male, unknown age, he was an import, and I was the third owner. I'm quite sure he only passed due to having attempted to eat a wasp as I came home and began my feeding rounds only to find him in anaphylaxis. He also passed despite being given supportive care, though my vets are now researching the best possible treatment for anaphylaxis in chameleons and wasp traps have been ordered to prevent this from happening again. A wasp nest in the cage was discovered a few days later.