After months of thinking my girl could have infertile eggs she finally laid on 6th December! I got suspicious of eggs a couple of weeks before and tried her in her big bin but she wasn't ready yet!
She started to dig test holes on 30th November and didn't eat from the day before! She had been acting receptive with bright colouring and very keen to eat for about 6 weeks prior but I only really noticed a big weight gain about 2 weeks ago then another huge difference 3 days ago. She chose to lay her eggs in the bin that I keep in her enclosure which was great because she was very cranky and I didn't want to have to move her again!
After seeing her dig the first test hole I covered up her enclosure and was only checking in on her at lights on, lunch time, and about an hour before lights out.
Here she is about 2 weeks before laying. Believe it or not she got even bigger but I don't have a photo.
She continued to dig little bits over the next 5 days, stopping to drink and bask. I was worried that she didn't like the sand so I changed it for what was in the big bin (sand and eco earth mix) and dug her a big test tunnel. The next day I left her alone all day. When I checked her at bedtime she had dug a very long deep tunnel next to mine, all I could see was the tip of her tail! She wasn't moving and I got a bit worried but she was just sleeping after a hard day's work!
She slept in her tunnel all night and I heard her start to dig again when I turned the lights on in the morning. Poor girl, I thought her hole was deep enough but she wasn't satisfied yet! I left her alone until about 15:30 when I got in from work. I saw that she was out of the tunnel now and was either laying or covering. I left her for a further 2 hours and when I returned she was finished!
My clever girl was all dirty and skinny so I gave her about 3 litres of a shower and a bunch of calcium dusted silk worms. She ate like a little piggy and drank a lot. At that point I knew everything was ok with her and could breathe again! She has continued to eat but is shedding too so not eating as much as I wanted!
Here are some pics of her now, poor skinny thing! Her face was still a bit dirty
Her colours are still beautiful though.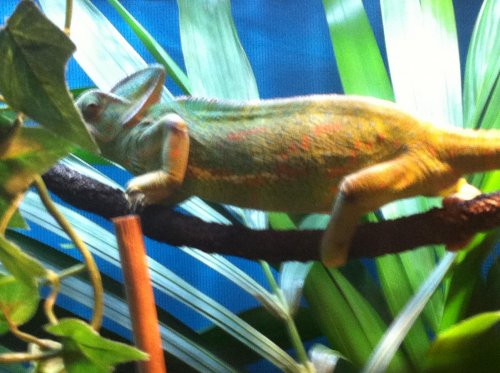 I waited before digging up the eggs because the bin was in her enclosure and I didn't want to disturb her too much. She had laid 44 eggs! They were buried right at the bottom of the bin towards the back, she made a very very big tunnel! Because there are so many I'm going to cut back on her food again. She eats 2 bugs a day but still produced all these eggs! Her temps are at a constant 80f.
Here are the eggs!
I'm just so happy that everything went how it should and we won't have to worry about this for another little while! I have done so much research but I still had panicks and worries!
If you have female chameleons then this blog is a must read
https://www.chameleonforums.com/blogs/jannb/345-egg-laying-laying-bin.html
and Dez's how to video too
https://www.chameleonforums.com/laying-bin-set-up-educational-video-77225/
If it hadn't been for this great resource I wouldn't have known what to expect or how to handle it! I am ever so grateful for the forums and the great supportive community around here, truly priceless!
Thanks a million!