I've been noticing Beau scratching at the door of his cage for the past week. I've looked over his enclosure (he's being kept in a 2 x 2 x 4 Tamura PVC cage).
Cage details: UVB light comes on at 7 AM, Sansi grow LEDs come on a half hour later. Basking bulb is on a dimmer and comes on at 8 AM. I won't let it get above 85 F, especially on very warm days. During the day, Humidity is between 38% (low, I know. We went through this same thing last summer) and 45%. It spikes to about 65% when his MistKing goes off at 1:30 PM. I've kind of decided to take the L on humidity during the day as I usually am able to keep it above 70% at night. Occasionally I'll use ice cubes in a ceramic planter on top of his cage as a dripper, but I don't always do this since he already gets that mid-day misting and I don't want his cage to get too damp. His cage is very well planted; I've currently for 4 pothos plants and a croton in there. One of Beau's pothos plants has grown so large I've had to cut it back so he actually has space to climb mid-way through the cage. His Arcadia 6% is nearly a year old (I first used it on July 27th of last year) and will be replaced tonight.
Supplements/gutload: Beau gets fed 4-5 large dubia/discoid/lobster roaches and maybe 1 hornworm or some BSFL every other day (silkies on occasion). He's huge and very active, and I never have any issues getting him to eat. I gutload feeders with a homemade mix blended and frozen into cubes. It consists of at least two types of greens - collard and mustard greens OR bok choy, sometimes all three (I'll also use chard when I can find it) sweet potato, yellow squash, bee pollen, bell pepper, carrots, a small scoop of powdered Repashy Bug Burger and mango or black berries. I also use dubiaroach.com dry dubia chow and cooked/gel form Repashy Bug Burger. I use Zoo Med calcium with no D3 every feeding except for the 1st and 15th of every month. On those days, I use Repashy Calcium Plus LoD as his D3 and multivitamin.
Beau's not shy or aggressive with people in the least. He'll usually crawl out onto my arm of his own volition, and he definitely doesn't care whether it's me or someone else standing in front of his cage (he'll take a hornworm from anyone). I've started taking him outside, which he seems to enjoy. I'd LIKE to think he's just a friendly guy and associates the cage door opening with food or getting to come out, but I've caught him clawing at the acrylic even when no one is standing in front of his cage. I just want to rule out the possibility of there being some issue with his cage that needs fixing. He won't scratch at it all day; he will eventually settle and bask or crawl around his cage. I've got fake vines taped to the outside of the cage door to give him a bit of privacy since his cage is in the main room of our house. I've wondered if maybe it's just him trying to figure out why he can't climb on the vines, but he's eager to come out even when they aren't directly in his line of slight.
Just trying to determine if he'a asking to come out because there is something wrong with his cage, or if it's because he just.. likes to come out. Any thoughts on this? Pics included of Beau enjoying the back yard patio just because
.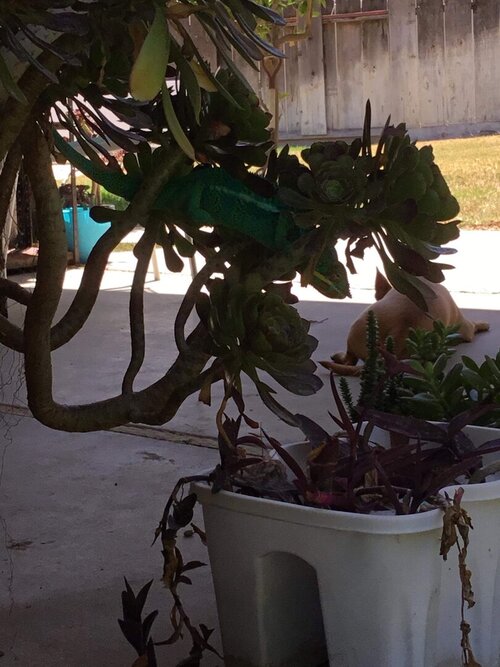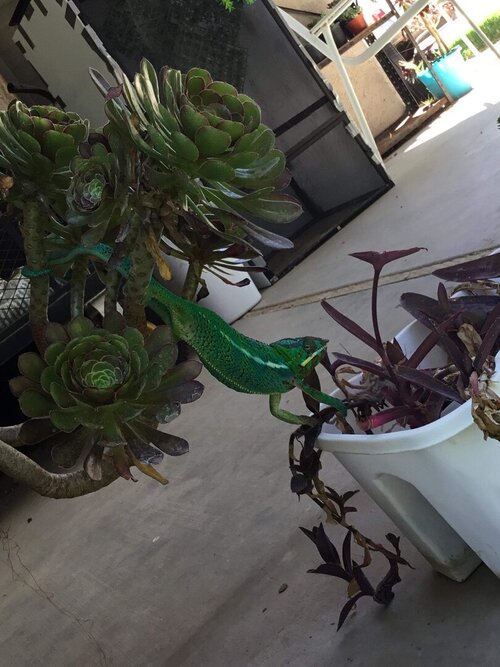 Sorry for the wall of text and thank you in advance
Last edited: