Chameleon Info:
Your Chameleon - ambanja panther, female, 3 months. one week
Handling - not once yet
Feeding - small brown crickets 10 a day feed every morning gutloading with veg
Supplements - mult-vit nutrolbal 2 times a months, calcium calypso evey feed
Watering - misting bottle 3 times a day i see her drink all the time
Fecal Description - peach coloured poo's ever day not been treated for parasites
History - none
Cage Info:
Cage Type - exo terra glass and screen 18x18x24
Lighting - zoo med repti sun 5.0, model linearer tub on 11 hours of 13 hours
Temperature - basking 87 ambient 80 night 69 digital thermometer
Humidity - 60-80% misting bottle live plant digital hydrometer
Plants - small ficus
Placement - none about a foot from the floor
Location - England
Current Problem
My baby chameleon fell from the top of the tank on to the glass floor the hieght is about 24 inches at firt she as fine and now I have noticed that the bottom lip on the right side on my chameleons lip is pertruding a slit bit this is not putting her of food or drink she has gone a git draker from her normal peach colour.
I feel awfull i havn't even had her a week and now this happened.
here is a pic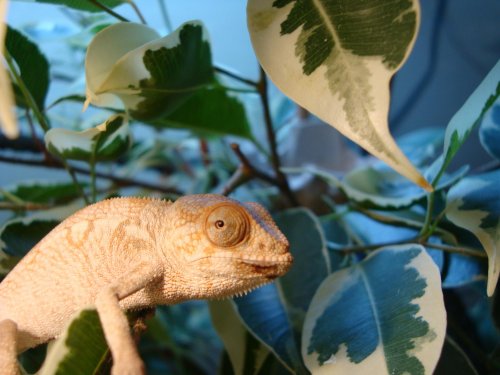 Last edited: