The past few months I've been focusing my love for Pepe towards his cage upgrade (and a few other small details), and I think today I finally reached a point of completion. I'll definitely give the details (and pics) needed for anyone who might be going through the same stages in chameleon care and have questions for a cage upgrade, but I can't help but also tell the story behind everything as well.
On a personal note, I've had a rough few months battling some crippling anxiety and a dash of depression. A lot of people on this website open up about how the routine of caring for a chameleon helps us cope with these awful illnesses. While Pepe probably still thinks I'm a predator who's going to eat him one day, I still love getting up in the morning to feed him - and dare I say it - check his poo!
Anyways, all of this was done in many stages and it took me a lot more time than the average person. I take a lot of pride in the end result. I still don't think there's such a thing as a perfect setup, and I'm always open to suggestions and advice! I also still continue to do research to see how I can continue to make improvements on all aspects of my chameleon care, and so really a lot of things were upgraded, not just his enclosure/cage.
I'm not good with timelines, so the following is a little disjointed in terms of when each stage happened...sorry.
Enclosure - I did research and went with the advice of many to get a Dragon Strand. I cannot say this enough, but you will not go wrong with this brand. Seriously, the quality is amazing, and I love this enclosure so much. I can't get over it. It made this entire cage upgrade possible. Now that I did all of this work with a Dragon Strand I can't imagine doing it with a crappy Reptibreeze that doesn't have the Dragon Ledges...seriously. I also can't see how a Reptibreeze costs as much as it does with the difference in quality. Specifically, I got a "Large Keeper Screen Chameleon Cage Kit," which is the 2x2x4 feet needed for an adult (my guy is about 7 months old right now). If you get a Dragon Strand, do yourself a favor and go ahead and get extra Dragon Ledges because you WILL use them! I wish I did, but I also made it work with the 5 that the kit came with. Also, this company and Bill are AMAZEBALLS (as the kids say these days). My first cage came and Fed-Ex did a number on the box, and the frame pieces were all super bent up. I contacted Bill and he immediately responded to me, and on the very next business day they shipped me out replacement pieces! It was incredible service, and I wish there was more I could do to thank them! Also - I took one of the false bottoms the kit comes with and drilled MANY holes in the bottom for drainage. I don't like the idea of ANY standing water for any amount of time, so I skipped the drainage tray idea. I just took the white bottoms that come with the kit (2). I took one of them and drilled many many holes in it, sort of in a pattern, but also not that carefully because who cares. This has worked great for me, except for the fact that the bottom is 4 square feet and my drainage container isn't that wide (can't find one to save my life). I've seen many drainage solutions and I'm thinking through the best solution for me and my setup. I'd love to talk to an experienced person about this. Right now it's not an immediate concern, and what I have does the job pretty well, but I think it's my biggest room for improvement at the moment. It's also more for me than for Pepe, so I can live with it for the time being. I kind of like the idea of the shower curtain that directs the water into the drainage container, but I'm skeptical of its effectualness.
Lights - I started with a linear bulb, but I still upgraded my linear bulb fixture and bulb(s) to Arcadia brand. I bought them from lightyourreptiles.com and I absolutely LOVED the shipping methods. Everything came in a million packing peanuts and cardboard so nothing broke
. I bought a 24'' high output double bulb fixture that came with a 6% UVB bulb and a 6.5k daylight bulb. I also bought a 5.5'' Econo dome. Pepe loves the HO linear bulbs and fixture more than anything else out of his upgrade. He practically lives under this light, my plants are doing amazing under it, and the fixture is just amazing quality! Now the dome...I hate it. I don't use it. In fact, it ended up in my storage in the basement.... oh well. It was cheap. You live and learn. I'm also really glad I got the 6% UVB and not the 12% since Pepe practically lives under it. I don't want to cook him with too much UVB, and so for me the 6% is an obvious choice even though for some this is a topic of debate.
...To be continued...
Picture time!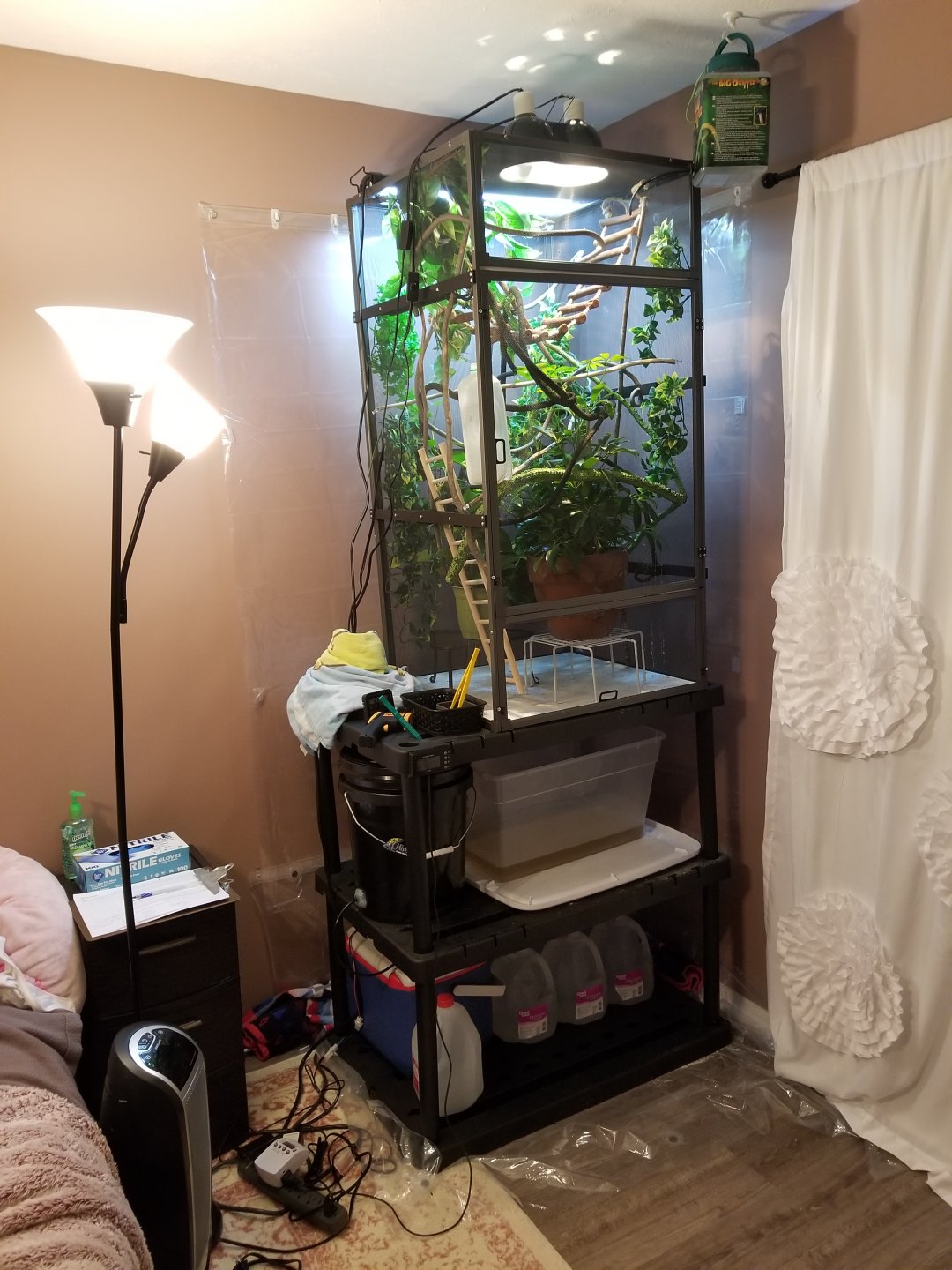 Chow time! I'm as far away as I can get, really zoomed in crappy camera. He saw me right after and ran away to hide, lol.
Checking out his BRAND new home. Mom hasn't even put my lights on yet! (You can still see the old cage in the background.)